In a recent conversation with one of my neighbors, I mentioned that I just returned from a week of working with students at Midwest Oboe Camp in Gambier, Ohio. As an oboist and private teacher, the idea of oboe camp never seemed odd or unusual, but my neighbors made it clear that oboe camp is not something that everyone is familiar with.

So what is oboe camp and why should your student go to oboe camp? Those are both great questions! Many students go to some form of camp during the summer, but oboe camp stands apart from any other type of camp. Midwest Oboe Camp is geared towards students of all ages and experience levels. The only requirement is one year of study in the oboe through school music programs or private instruction. Oboe camp is a unique experience for young oboists to be immersed in all aspects of the oboe including performance, private instruction, maintenance and repair, reed-making, chamber music, and technique specific to the oboe.

In the small town of Gambier, Ohio, Kenyon College is the home of the Midwest Oboe Camp. The beautiful campus creates the impression of a vacation for students and faculty, but both students and faculty work diligently over the course of the week in masterclasses, rehearsals, and private lessons.

The Midwest Oboe Camp faculty includes Camp Director Julie Grasso as well as Professors Robert Sorton, Bailey Sorton, and Lisa Sayre. Midwest Oboe Camp Director, Julie Grasso, is a Yamaha Performing Artist and has been performing and teaching as a professional oboist for twenty five years. She is a founding member of a reed business, Double or Nothing Reeds, as well as a double reed quartet, Double or Nothing Ensemble, in residence at Xavier University in Cincinnati, OH.

Robert Sorton is Professor of Oboe at The Ohio State University, where he founded OBOHIO, The Double Reed Consort. Following a position with the Miami Philharmonic, he was Assistant Principal Oboe of the Detroit Symphony Orchestra for fourteen years.  He has also performed with orchestras such as Orpheus Chamber Orchestra, the Cleveland Orchestra, the Atlanta Symphony, the Columbus Symphony and the Charlotte Symphony.

Also a founding member of OBOHIO, Bailey Sorton has performed extensively in North America and Europe. Mrs. Sorton is an active educator in Ohio, teaching applied oboe at Kenyon College and Mount Vernon Nazarene University. At Kenyon, she also teaches bassoon and recorder and coaches the woodwind chamber ensembles.

Lisa Sayre is Adjunct Professor of Oboe at Reinhardt University as well as the University of West Georgia. Lisa was a member of the U.S. Air Force Band of Flight and is also a founding member of the Oxford Oboes Camp in Georgia.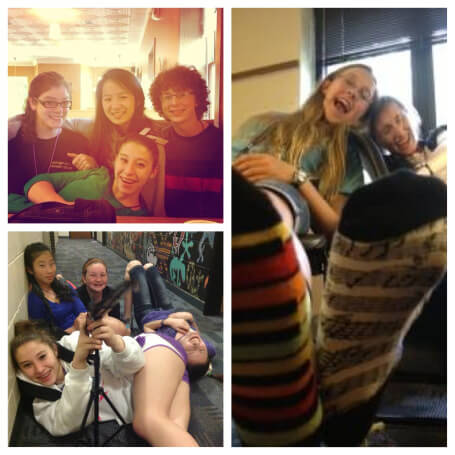 We had a lot of fun working with students and watching them mature as musicians. While you can expect some level of general silliness when young oboists live and work together for one week, students are also engaged in cooperative learning activities during which they learn leadership skills as well as how to work as a team. Campers are also challenged with unique opportunities for rich musical development and personal growth.
Campers have the opportunity to work with our renowned teachers in masterclasses, lessons, and rehearsals, but they also develop critical-thinking, problem-solving, and leadership skills through performances and chamber music rehearsals. Students are divided into trios and quartets and given the opportunity to pick music and rehearse for a student chamber recital.

Chamber music experience can be gained in a variety of settings including school music programs and other fine arts camps, but chamber music at Midwest Oboe Camp involves working with other oboe players! A lot of the conversation that takes place between campers within the first couple days of camp is about their schools. Many of our campers admit that they are the only oboe player in their grade level, school music program, or even the only oboe player in their school district. Through chamber music, campers work with other oboe players that have similar levels of ability and experience. This is an invaluable opportunity for students who may not see or work with other oboe players on a regular basis.

Campers spend two hours daily preparing a variety of trios for three oboes or for two oboes and English horn, but they also have an opportunity to play in a large double reed ensemble with both oboes and English horns. On the final morning of camp, students give a recital for the faculty and parents. The program includes the small chamber music ensembles as well as a large ensemble performance. For this year's culminating recital, our campers, along with their counselors, performed Doug Harville's arrangement of the first movement from Dvorak's New World Symphony followed by New York Girls by Charles Sayre.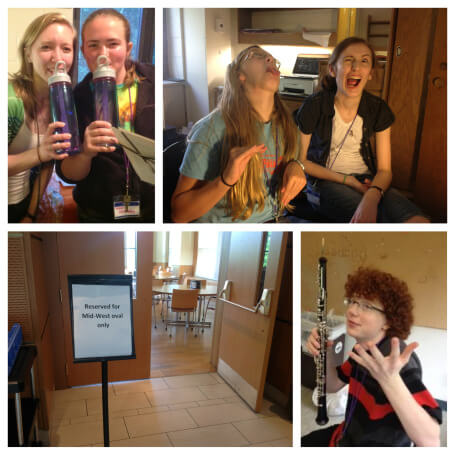 While our students study formally with our faculty, they spend the entire day interacting with our camp counselors, who bring their own unique experiences and perspectives to the table. Doug Harville, our boys' counselor, is originally from Louisville, KY and is currently working on a Bachelor in Music Education at Furman University where he studies oboe with Professor Petrea Warneck. Our girls' counselor is Julie Collins. Originally from Marietta, GA, Julie is currently working on her Doctorate of Musical Arts with Dr. Mark Ostoich at the University of Cincinnati College Conservatory of Music. From seeking shelter during tornado warnings to organizing parties and movie nights for campers, Midwest Counselors do a lot more than make sure that students arrive at their classes on time. Doug and Julie also coach chamber rehearsals, teach reed-making and lessons, and they are always there with a smile on their face to lend a helping hand.
Another unique learning opportunity for our campers includes two hours of hands on experience with reed-making every day! We don't just demonstrate reed-making techniques. Our camp boasts instructors who make and sell reeds for a living, so our campers are getting instruction from skilled reed-makers. Reed-making is another activity for students of all levels! Experienced students have an opportunity to refine their knife technique. At the same time, students with no prior experience receive their first reed-making kit and go home with something that makes a sound in their instrument. While we cannot guarantee that all students will become master reed-makers in the course of a one week camp, we can promise that willing students will go home with a
deeper understanding of reed-making.
Oboe campers meet and work with guests like Sarah Thelen, an oboe maker with Fox, as well as Professor Robert Sorton from The Ohio State University and Bailey Sorton from Kenyon College. Campers learn about topics usually reserved for college students and professionals. They discuss instrument building and repair as well as oboe related topics that their band directors have little experience with: harmonic fingerings, high note fingerings, double tonguing, oboe technique, trill fingerings, adjustments, and repertoire.
Masterclass is occasionally interrupted by celebrity guests too! (Hint: He's fuzzy, red, and giggles more than a middle school girl!)
Midwest campers spend an entire week in a different form of cultural immersion. They learn from and live with professional oboe players, college students and graduate students as well as oboe players their own age. Usually just being an oboe player qualifies as a unique bond between two people, but our campers grow much closer to each other through playing chamber music, rooming together, playing vicious card games, and spending quality time in severe weather shelters during tornado warnings.
Campers attend a faculty recital, but on the last morning of camp, students perform their own recital for each other and for their parents. Then, they return to their homes and school music programs with new friends, new mentors, new challenges, and a strong desire to make more music and to have more fun doing it.
Make plans now to join us for Midwest Oboe Camp in 2014!
Julie C