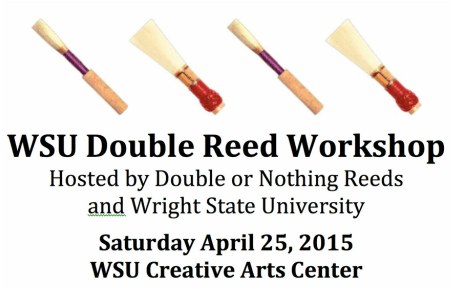 Schedule
8:30 AM Registration
9 AM – 12 PM Reed Making Class
12 PM – 1 PM

Lunch Break

(Pizza included with registration)
1 PM – 3 PM

All State Master Class
Register online or in person for either one or both sessions of the WSU Double Reed Workshop. The cost of both sessions is $20 and includes a pizza lunch. Registration for the Reed Making session is $10, and registration for the Master Class is $10. Registration will also be available on-site. Cash or check will be accepted at the time of check in.

Register online by 5 pm on Friday, April 24 to receive a FREE spool of thread!
Morning Reed Making Session Only       $10
Afternoon Master Class Only                  $10
Both Sessions and Pizza Lunch             $20
DNR will be vending on site at Wright State University's Double Reed Workshop on

Saturday April 25

. The workshop is open to oboists and bassoonists of all age and skill levels, whether you have never tied a reed before or want to hone your skills! Bring any reeds and reed tools. Double or Nothing Reeds will have additional reed making tools and supplies available for purchase.