Every now and then, I encounter someone who thinks that the English horn is an instrument that oboists play to make a little extra money for doubling at gigs. Hopefully, a little research into the scope of repertoire available for the English horn will dispel that myth!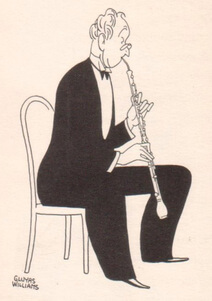 Most music students won't be getting a degree in English horn performance, but the English horn has a long history as well as a rich expressive palette. The expressive abilities of the English horn may be featured most often through certain orchestral excerpts, but we hope that the list below be a useful pedagogical tool and will provide inspiration in programming performances!
Before taking a look at the document below, please enjoy a couple of YouTube videos featuring English horn concertos!
First, Pēteris Vasks Concerto for Cor Anglais (English horn) and Orchestra.
Second, DM Kirsch's Concerto for English Horn, "Jahreszeiten," op. 18
Our "Survey of English Horn Repertoire" is far from complete! It does not account for countless arrangements and transcriptions, nor does it include every work ever written for the English horn. Please help us out! If we have overlooked something, let us know!